Welcome to the Sealing category for the Sir Grout Orlando Blog. Here you'll find blog posts related to stone, tile, and wood that we've restored. See the amazing transformations with the included before and after pictures. Feel free to share and leave your comments.
Published August 02, 2019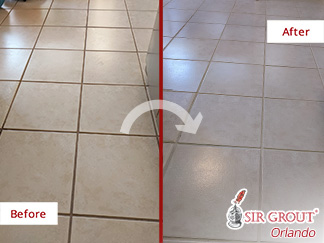 A Professional Grout Cleaning Job in Orlando, FL Gave This Kitchen Floor an Improved New Look
While preparing the house for an event, a homeowner from Orlando, FL noticed the condition of the kitchen's floor didn't improve. Even after thorough cleaning, the grout lines remained dirty and the tiles looked unappealing. The house had to be perfect for her guests, so this was a big issue for her.
READ MORE
Published April 30, 2019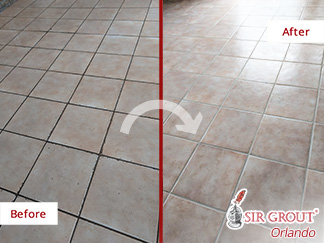 Professional Grout Cleaning in Orlando: Restoring and Revamping an Old Damaged Floor Fast and Efficiently
Floors receive heavy foot traffic and daily wear and tear. These surfaces also have one vulnerable component: grout. This essential mixture is commonly cement-based and quite porous.
READ MORE