This House in Orlando, FL, Has Revamped Surfaces Thanks to Our Tile Cleaning Services
October 20, 2023
Keeping tiled surfaces in top condition is a priority for many homeowners, but this can become a challenging task. There are some issues standard methods can't address, and when this happens, the chore turns into a headache. A resident of Orlando, FL, wanted to improve the appearance of his home. He didn't like the dingy kitchen floor and the deteriorated bathrooms, but due to his busy schedule, he was unable to address the problems himself. After considering his options, he decided that seeking professional assistance was the best solution.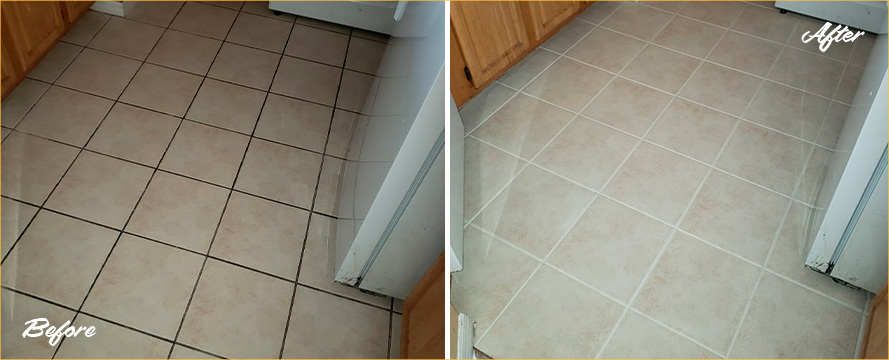 Thankfully, one of his friends recommended Sir Grout Orlando. Our loyal client told him our
tile cleaning services in Orlando, Florida
, were outstanding. Following his suggestion, the owner went online to learn more about us. After browsing our website, reading some of our blogs, and going through the positive feedback we receive daily, he was convinced we were the best option. Hoping to solve his problem, he called us and asked for a free evaluation.
As requested, we went to his house for an in-home consultation. The owner gave us more details and we began the assessment. After thoroughly inspecting all the affected areas, we shared our insight. The kitchen and the bathrooms were in poor condition. We noticed the grout had decayed, while the tiles were shabby and unappealing, giving the surfaces an unsanitary appearance. Additionally, it was imperative to apply a special sealant to prevent further deterioration.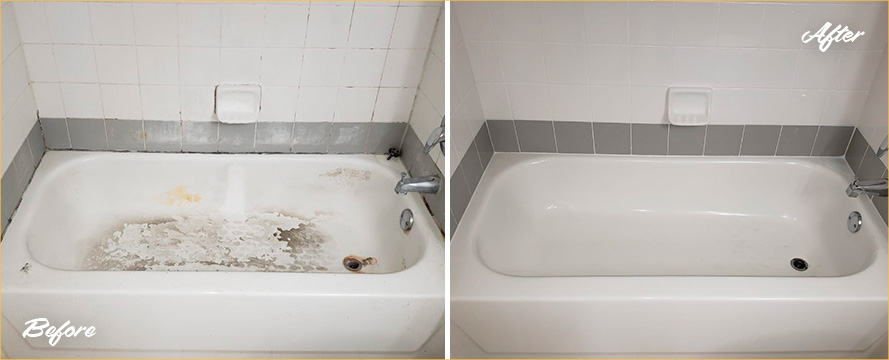 After reaching a satisfactory conclusion, we were ready to discuss a solution with the owner. As we had determined that the surfaces required professional treatment, we offered our tile cleaning services. With our exceptional restoration process, we would restore the surfaces, and give the bathroom and the kitchen a well-deserved renovation. Before providing a quote, we conducted a brief test to demonstrate the effectiveness of our methods. The owner loved the results and decided to hire us for the job.
Shortly after, we returned to begin the restoration. Our process is a comprehensive procedure that ensures the best possible results. Since we needed to address several areas, we started working in the kitchen. First, we cleaned the surface using our exclusive cleaner, which is made with high-quality ingredients and doesn't leave any residue that could cause damage. Once we had cleaned everything thoroughly, we proceeded with the grout repairs.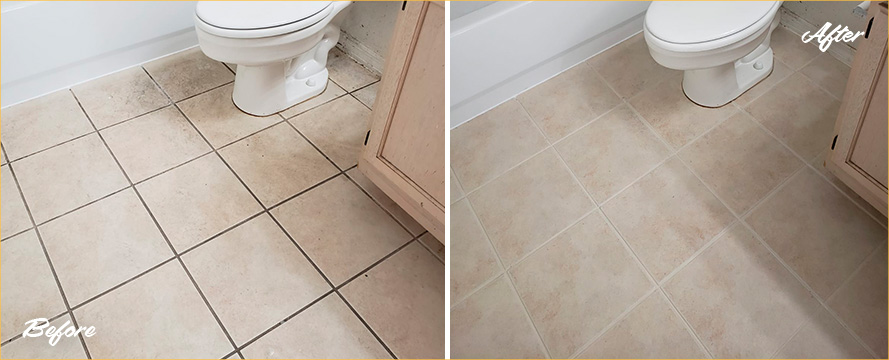 Regular cleaning is ineffective against severe damage, stains, or discoloration, so achieving the desired results with these methods can be challenging. For many homeowners, this task becomes time-consuming and troublesome. However, Sir Grout Orlando has all the tools and expertise to deal with these issues. We worked diligently on the floor, giving the grout lines a new look. Finally, we sealed the surface using Sir Grout's flagship sealant, ColorSeal.
Our high-quality product, ColorSeal, offers excellent protection against dirt, grime, and other external agents. This reduces deterioration and simplifies cleaning routines. ColorSeal gives the grout a uniform color, improving the surface with a brand-new appearance. Our sealant comes in a wide range of colors, so our clients can easily match the tiles with the grout. After restoring the kitchen floor, we addressed the other areas that needed our attention. The process was basically the same, and when we finished, we had successfully given the bathroom and the kitchen a complete renovation.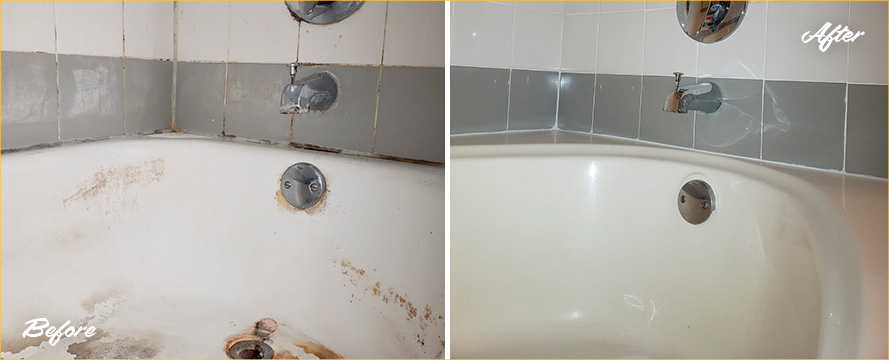 We delivered an exceptional restoration and everything looked perfect. When we called our client to show him the results, he was pleasantly surprised. The owner loved the renewed appearance of all the surfaces, and he was very happy because the process had been efficient and fast. Before we left, he sincerely thanked us and assured us that he would recommend our services to everyone.
Tiled surfaces in busy areas endure excessive wear and tear, which can lead to damage and decay. Therefore, they require proper care and maintenance. Adhering to our recommendations is crucial to keep these surfaces in top condition. We recommend setting up a weekly cleaning routine using only pH-neutral cleaning products such as
Sir Grout's Natural Hard Surface Cleaner
. Our product surpasses the competition, offering top-notch quality and many benefits. Additionally, it is non-toxic and safe for everyone in the house, including pets.
We do not recommend using soap-based cleaners or substances with acidic properties. These products contain harsh agents that can damage the surface. Furthermore, they leave a sticky foam that seeps into the grout, causing stains, discoloration, and other issues. While cleaning the area, always use clean mops, prevent foot traffic on the wet surface, and allow the floor to dry before entering the room again. Avoid using abrasive tools since they can scratch the tiles. Placing a doormat near exterior doors can help reduce dirt accumulation. It is also important to keep the bathrooms well-ventilated and dry to prevent mold and mildew growth.
Our
satisfied customers
can confirm Sir Grout Orlando's tile cleaning services are the best in town. Don't wait any longer and contact us today by calling
(407) 409-8787
or by
scheduling a free quote
. If you want to see more, we invite you to check out our
picture gallery
. Please consider subscribing to our
newsletter
so you don't miss our latest promotions and updates.